Currently, living needs are becoming more and more diverse and upgraded. Many homeowners are interested in how to arrange the interior to make their house appear harmonious and reasonable. To build your perfect house, choosing a style that suits your preferences is very important. So how many styles are there in interior design and which is the most suitable style for your home? In this article, we will summarize for you the most popular and attractive interior design style today.
Maverick design style
The Maverick design style is for those who love to be different, and non-traditional with the way the room is designed into pieces of space with mixed colors. You can combine deep tones such as black and white with arbitrary hot and cold colors such as blue, red, yellow, etc depending on your liking. However, it is still necessary to pay attention to the layout of the space to avoid a lack of uniformity. Each different piece of space in the room can be standout, but when combined, they will create a unique, improvised whole that stimulates creativity.
Hitech interior style
Hi-tech interior style (also known as High Technology) focuses on the use of advanced technology equipment and modern angular design lines. Accordingly, the main materials include synthetic metal, and stone, especially glass, combined with monochrome colors of black, white, and gray to create a comfortable living space that is extremely liberal and refined. economic.
Country style design
The country style gives the living space a peaceful, relaxing breath of the countryside in Europe, the mountains of Northern Europe, or the farms in the US. The special feature of this style comes from the use of abundant natural light, creating an open space. It is possible to use many glass windows in combination with washing curtains so that the light can be adjusted when needed. When combined with gentle colors will bring comfort, relaxation, and peace of mind to the owner. For additional decoration, you can use floral details, and fresh vases, especially the fireplace – one of the indispensable decorative items in European-style home spaces.
Classic style
The classic design style gives a strong impression to the viewer through the grandeur and beauty of large-sized furniture and sophisticated pattern details. To enhance the house's elegance and nobility, priority should be given to the use of deep tones such as black, yellow, dotted with dark colors such as plum red, ruby ​​green, navy blue, etc. Showing nobility in the space is the most advanced materials such as natural wood, plaster, and gilded details. This is a style that is not for everyone but only for homeowners with good economic conditions.
Neoclassical design style
Originating from the architectural design in Europe in the 18th and 19th centuries, the neoclassical style brings simplicity and balance to a modern space while still keeping the elegant and aristocratic beauty of the classic style. Accordingly, sophisticated and complex details are omitted and replaced with softer and gentler pattern details. The main colors used have a feeling of nobility and luxury, but you can freely combine them with brown wood and add a few more prominent colors such as red, blue, etc. Along with that, keep in mind that the interior design layout should have a symmetrical proportion, helping to increase the perfection of the space.
Modern interior style
The modern design style is the arrangement of simple spatial shapes in the direction of freedom and asymmetry. Some of the salient features of the modern style:
Use neutral colors such as beige, black, white, and gray to bring the most sophistication and comfort to the space. Focus on highlighting striking shapes through appropriate dark and light color schemes.

Only focus on the use of the interior. Where to buy beautiful, modern furniture? Check out

Crate and Barrel vs Pottery Barn

.   

Multi-function smart furniture is prioritized to help bring a simple but extremely comfortable space.

Mainly used materials such as glass, metal, pressed wood, and concrete with modern designs

Apply open space by combining different rooms into a common space with unity in color, material, decoration, etc. For example, the living room and the kitchen. This provides a spacious, comfortable living area and clearly shows the freedom and freedom that characterizes this style.

Make full use of natural light to expand the space, creating a feeling of light and comfort for users.
Rustic interior design style
The Rustic style gives space simplicity and rustic. Meanwhile, this style still exudes the subtle, cozy beauty needed for the space, making your guest impressed at first sight.
This unique architectural style originated in the United States through the government's policy of creating beautiful buildings in harmony with nature in national parks. This style flourished in the 60s of the 20th century and then became popular when designing houses in the American suburbs. Here, raw materials will be arranged artistically to create a rustic, lasting, and extremely attractive beauty.
Accordingly, simple materials derived from nature such as stone, wood, rough fabrics, or carpets made of hemp, jute, and linen with simple and youthful textures will make the living space feel idyllic and peaceful. The colors chosen are mainly gentle, simple, and not too colorful tones such as gray, light brown, light yellow, moss green of stone, etc. With contemporary and rustic furniture styles, West Elm deserved to be your choice. 
Scandinavian style (Northern Europe)
The Scandinavian interior design style first appeared in 1940 and flourished in European countries in the 1950s. The starting point of this style is mainly using expensive natural materials at cheap prices. Since then, this style has been popular with many people and opened the premise for the development of the Scandinavian style.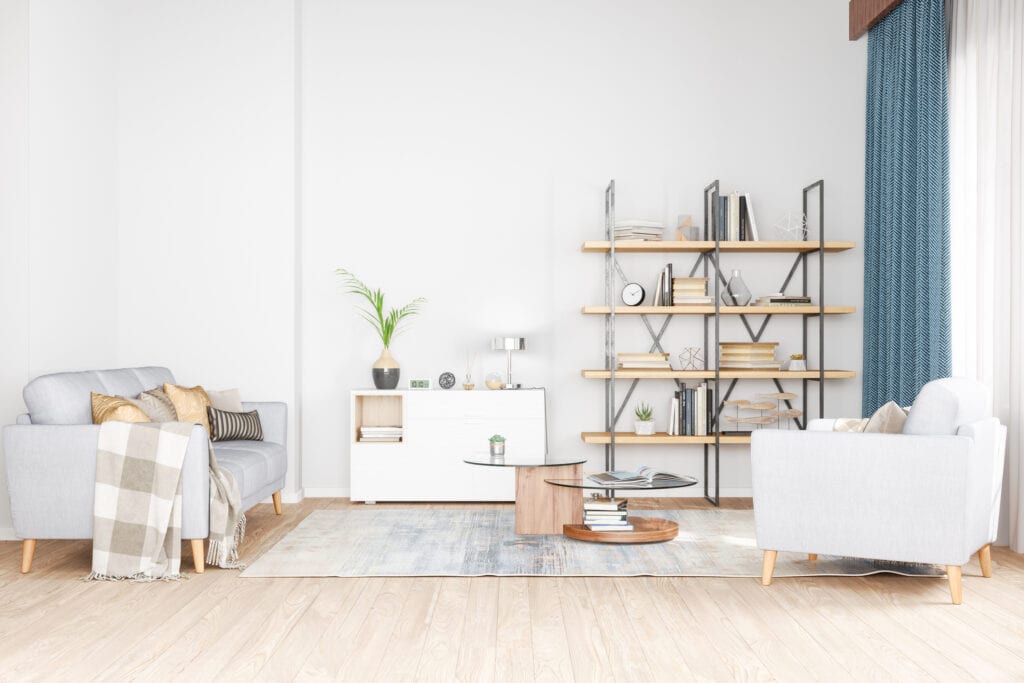 Art Deco design style
Art Deco interior design style is an eclectic art school that first appeared in 1920 in Paris, France. It was not until 1930 that this style spread to the whole world. Not only in the field of housing design but Art Deco style also appears in the fashion industry, jewelry, painting, cinema, etc.
Art Deco style is always done according to a certain creative artistic theme. For example, birds, animals, nudes, stairs, branches, etc. Along with that are gilded motifs as accents. There are also other lavish decorative items to flaunt the wealth and class of the owner. Some highlights of the Art Deco interior style:
Artistic images are adjusted through textures, pictures, statues, etc.

The beautiful zigzag pattern creates a multi-dimensional effect

Create attractive buildings.

Angle quadrilaterals.
Minimalist interior design style
Minimalism interior design style has its roots in the Western art movement after World War II. Then, this style flourished in the 1960s and 1970s of the 20th century. Initially, they mainly appeared in the sculptures of John McCracken, Robert Morris, Frank Stella, etc., and then expanded and widely used in home interiors, music, fashion, etc.
It can be said that the minimalist interior design style is typical of neatness, the less furniture and details the better. Mainly based on sharp and asymmetrical shapes. The color also mainly chooses simple neutral colors such as white, cream, light brown, etc. The interior is minimalistic, not too cumbersome, and has a delicate design with stainless steel details.
Read more articles on usaf95zone